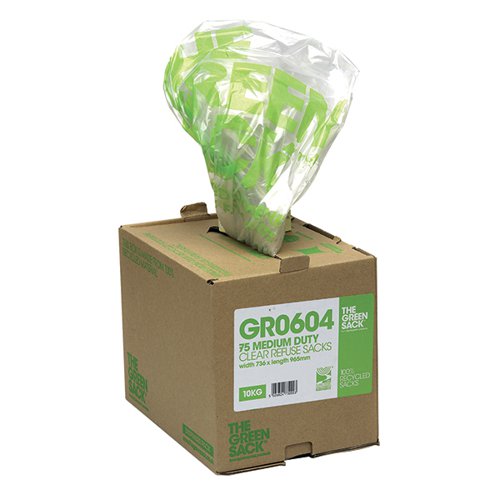 Pre-Order Now! Awaiting stock.
Manufacturer Berry Global Group
Made from 100% recycled material
Sacks are easily dispensed from cardboard box
Easy to identify rubbish contents for correct disposal
Ideal for medium duty waste
Great for janitorial use or to have handy at home
Capacity: 80 litres
Colour: Clear
Pack of 75
Show More
Description
The Green Sack refuse bag is a clear, medium duty refuse sack made from 100% recycled material in a handy dispenser box. Ideal for janitorial and office use, or to have around the home, these clear sacks are incredibly popular, as the waste contents can be seen, making them useful for security and in situations when you need to ensure only the correct type of items are put in the sack. Most commonly used for shredded paper, drink and food containers or general food waste.
Specifications
Made from 100% recycled material
Hexavalent Chromium (ppm)
Minimum Recycled Content (%)
Post Consumer Recycled Content
Pre Consumer Recycled Content