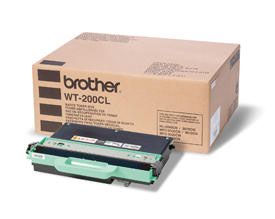 Pre-Order Now! Awaiting stock.
Manufacturer Brother
Description
The genuine Brother WT200CL waste toner unit is an integral part of printer maintenance and helps to keep your Brother laser printer running smoothly. This original Brother WT-200CL waste toner unit is responsible for collecting any left over toner residue that is produced during the laser printing process ready for safe and effective disposal. The Brother WT-200CL waste toner box is manufactured to exacting standards using high performance Brother components that are specifically designed to work reliably and consistently with Brother printers. Built with official Brother parts, the genuine Brother WT200CL waste toner cartridge is the ideal solution for replacing your existing waste tank once it has reached its end of use. Your printer will not function to its full potential if you have a dysfunctional or overused waste toner unit so it's imperative that you invest in a high quality replacement waste cartridge such as the Brother WT-200CL waste toner unit to avoid printing errors, costly repairs and unwanted printer downtime. With an estimated capacity of 50,000 pages the Brother WT200CL waste cartridge is long-lasting, reliable and easy to install.